Interviewed by DPRP's John (Jonno) O'Boyle
It has been 12 months since the release of the acclaimed Charlestown.  Guy Manning is just about to release his twelfth album Margaret's Children, an album that revisits the fabulous Anser's Tree.  The prolific artist has taken time out to speak to John O'Boyle at DPRP to give an update on his very productive world.  So please be upstanding for the ambassador of storytelling …….
John: Hi Guy, one thing that has struck me when I received your new album Margaret's Children, was that annually, you have been releasing albums with this being number twelve, which is not what I would call being idle as a musician.  How do you manage to be so prolific without losing any of your intensity or integrity?
Guy: In terms of keeping going, well the song writing is always the most fun part of the process for me. The recording and production into eventual release I find more irksome. As long as I get some strong ideas, concepts, tunes, lyrics before me I can easily carry on. The hardest part is to find something new to write about which has not been done to death or too preachy. My style for what it is, is that of a storyteller putting a point of view across most likely in the 3rd person or in character. These stories/characters encapsulate the ideas I am trying to convey and allow them to speak with a personal / intimate voice to the listener (hopefully).  The integrity part is harder as some of the people I have come across in recent years have challenged that intent. I guess that is all part of the package if you dare to put something you have created out there for public scrutiny.  And these days it goes out to vast more numbers than ever before.  The internet has seen a small artists' boom and their demon al at the same time. (Note: for more detail on this area folks go and hear the TANGENT's new "COMM" album as Andy Tillison has eloquently explored this theme). There have been some quite nasty attacks unfounded bigoted and quite personal on me out there and also some quite remarkable praise,…so yin/yan/ …good/bad what can you say?
John: So twelve months have past since the release of your last stunning album Charlestown, an album that received some excellent reviews. How do you personally feel the album was received?
Guy: Well.  Extremely well actually for what I thought was going to be a more challenging experience for Ma
nning fans! It sold more copies, got bigger reviews, allowed us to get into polls!  On DPRP we got the first 2 x 10/10 awarded (plus an 8.75 form BobM!) But the fact that it garnered early high praise in some areas brought the trolls out from under their rocks!  It seems that if something does well then some folks feel that the best thing to do is to destroy that thing as quickly as possible.  The "infinite number of monkeys" concept comes to mind with a twist when it comes to ad-hoc internet reviewers on occasion! Some indeed write Shakespeare and some write crap…hmm this seems to be a recurring theme! (note to self…less of the attitude Manning!)  For the record…any reviewers out there, please say whatever you think about the music etc, the performances , production etc that is your right, your opinion but at least be accurate with it. Opinion is fine…because that is ALL it is…but facts that are quite wrong or manipulative / politically motivated, bigoted rhetoric drive me mad!
John: One can only assume that it raised your profile somewhat?
Guy: Never sure to be honest John! The problem with releasing a lot of albums and with regularity is that I think it can bring the danger of 'ennui' for some. "Oh it's just ANOTHER Manning album". If I wrote the album on time but did not release it until years later or disbanded and then came back for a reunion gig/album, then I think in some quarters it might get the music more attention
John: With Margaret's Children you have revisited Anser's Tree. What made you go down this avenue?
Guy: Looking for the "container". I think I have said this before but IMO there are 2 types of concept album a) the narrative concept – The Lamb, Tommy, Snow etc. The album tell a linear storyline. I did this with the Cure and A Matter of Life & Death, albums b) the container concept album. The songs are sort of individual and yet related, kept together in a group through a container conceit. Bilston (with each song set in one room in the same dilapidated house), Anser's Tree and now MARGARET'S CHILDREN…life stories from member of the same family tree.  Actually it is a great writing aid I found. E.g. I looked at the full genealogical tree we created for Anser's Tree…find some OTHER names on there, look at their Birth/Death dates see what in history was going on at the time and see if it lights any imaginative sparks!  I knew when I was starting into the process for MC that I wanted to write a song set in the US Depression mirroring activities set in a famous nightclub with the reality of the real economic and personal tragedies outside its doors and I also knew I wanted to write about a rogue revivalist preacher character…Harriet Horden and Jorgen Barras were there waiting for me on the tree! I also knew that I had to write a song about the warnings of ecological disaster (THE SOUTHERN WAVES) as this has been constant theme in a lot of my music.  Also with MC I found that it has many dependencies and overlaps with AT!  Cause & effect…Fleming Barras inherits Margaret Montgomery's Diary…David Logan influenced his clever son Adam in his life studies.  Harriet's family goes to live In Diana Horden's flat in New York after her murder etc. Seeing the whole thing twist and turn as the songs coiled around each others storylines was really great to draw out.  The tree image is great for this…deep roots and foundations with branches criss-crossing across time….very deep, Man!
John: Margaret's Children is an album that is full of lush and memorable melodies, something that I really associated with your music; your ability to be able to really build scenes like little movies, vignettes that play out beautifully that are second to none. Do you find complementing your music with such exacting lyrics easy?
Guy: I write stories so the tale telling I find easy. I think my songs are quite visual too and I go to great lengths to ensure that the song sit within a surrounding reality (such as the accompanying biographies produced for MC).  The story lines make it somewhat easier. If you visualise the story you can pluck descriptive phrases from those images and place them into the lyric. The fact that I surround the songs with their own world/reality means that I don't have to get too prescriptive with the story telling either some times i.e. I try not to just create a series of annotated events but let the listener conjure their own pictures from clues/words, evocative phrases etc.
John: The concept of Anser's Tree in essence is basic, a family story being told by the last descendant.   One could be fooled into thinking that the actual stories are true representations of real people's lives, which for me is the genius of well both albums to be honest. You have gone to some length creating these characters and biographies, something that really enhances the whole experience adding another dimension. I guess story telling is a firm passion of yours?
Guy: Yes, I think that is very true, and it makes life easier for me. I cannot write "I LOVE YOU BABY" songs and there are others about who can command attention on political social matters far more effectively than me. Where I hope I score is in opening up visual worlds of characters that the listener can empathise with or understand… go along the journey with me for a while…so I can get my POV across subtly.  I did another interview recently where I was so engrossed in telling the story of one of the characters that I actually forgot for a moment that these people are invented! The only slight exception on MC to that is Amy Quartermaine's story (A Perfect Childhood) which I based a lot on the true life story of Edith Cavell as I fell across Edith while researching for WWI storylines.
John: And unfortunately an art that is dying to some degree?
Guy: I think there are plenty of stories still to tell…but I don't really want to fall into the 're-make' trap (like MOVIES do!)
John: A Perfect Childhood is an interesting piece, the longest track on the album that is compiled of five pieces.  As a human Edith Cavell was quite a woman, famous for her quote, "Patriotism in not enough", a nurse, a spy, who saved life's from both sides without showing any distinction; who was eventually court-martialled and shot.  This is definitely a subject that deserves to be investigated further and one can understand why you chose to include this on the album?
Guy: Having stumbled onto her story it seemed to fit all the elements I was looking for i) Dramatic (war) and pre/post war time elements, ii) An interesting plot line (I had to amend some of it to fit Edith to Amy however).  It was not originally meant to be a long epic thing (c.17mins), it just took that long using multi-part sections to tell the full story. It was in fact longer and I cut verses out to make it more succinct!
John: I was discussing with a fellow music lover about your music at the Summer's End Festival this year and I described you as an ambassador of prog folk rock storytelling, which we both agreed was a fitting accolade. How do you feel that being recognised as that?
Guy: Very nice thanks I'll take it! However it could be argued (by me) that not all my material is folky…An Average Man on MC is not really folky IMO!  I worry I guess that I just get labelled as Tull-esque folk prog quite easily and I think there is far more to it than that and more musical influences in the mixing bowl.
John: I certainly don't want to give the impression that your music is all folky.  When you play Margaret's Children through  this certainly is not the case as there are varying styles that encapsulate the emotion of the music; the folk reference pertained more to your story telling ethos than your musical approach.  People seem to want / need to be able to put music in a genre box, which I suppose is a natural human instinct to pigeon-hole things. You sometimes hear people reference some music as their guilty pleasure; surely good music is good music?
Guy: Yes I will accept the folk/story element gladly. I want my songs to be about something and to touch people.  Pigeon holing is a dangerous thing!! especially these days when there is a lessening appetite to actually invest time into listening to music. I have met  kids that simply download,  ….give a track 45 seconds then say Nah and delete it.  We are in the wrong genre for that!  If I recommend to someone a listening to Pink Floyd, I would be dismayed if I was told later that that person thought it really awful because they had downloaded a sample track at random. (let us say Seamus from Meddle) to use as a benchmark/yardstick for Pink Floyd and all their albums! Also it is awful to be reduced to a shopping list of legacy prog bands because some tracks have a flute on them.
John: What is interesting is the use of some of the time lines on Joshua Logan 1990 – 2048, Prof. Adam Logan 2001 – 2094 and the last descendant Dr. Jonathan Anser 2089- ????? and The Southern Waves(David Logan 1967 – 2022). What was the reason for this?
Guy: Well Joshua is the red herring here! He was a character I wanted to include on AT that was just like my youngest, Nathaniel. Everyone who knows Natty will get the references!!!  The other timelines are interrelated I guess (across AT and MC) David has a keen interest in climate changes, tidal structures etc. as he is a fisherman by trade but very academic with it. He nurtured this fascination in his son Adam. David notices with alarm that not all is right with the World and the Tsunamis (of recent years) are indication of greater global shift. Adam takes up this challenge and tried to warn a disbelieving World about the consequences of their actions but they sadly refuse to listen and the predicted chaos ensues. This leaves us with Jonathan Anser excavating the site of his own ancestors (Margaret's Cottage grounds in Scotland) as the water levels have risen so far that only certain parts of the highlands are left visible.
John: Could you give a quick summation and your thoughts of what the album is about?
Guy: Probably already stated really!  These are stories about the lives of one family which started with Margaret Montgomery in 1600s Scotland through to the future with Jonathan Anser an archaeologist researching his own lineage.These character's (lucky for me) had quite colourful adventures! Well except for James Fairfax – An Average man, where the whole point of the lyric is to show the outcome for one of the characters who was not exceptional or overt but quite invisible…even James had a critical part to play in the tapestry of these lives though.  The stories are spread across the 2 albums Anser's Tree and Margaret's Children
John: I guess this would also be a fitting time to introduce the band too?
Guy: The live MANNING band consist of Guy:   Acoustic/Electric Gtrs, Keyboards, Bouzouki, Mandolin, Drums, Bass Percussion, Vocals, Kris Hudson-Lee : Basses, Stephen Dundon: Flute Kevin Currie; Guitars, bVox, Chris Catling: Guitars, bVox, Julie King: Keyboards, percussion, bVox (lead on "A Night at the Savoy, 1933"), Joe Casey: Drums, percussion, Tim Leadbeater*: Additional Keyboards
(* Tim is about to retire though in Dec 2011 and we have now got a replacement!! Stay tuned for more details on my website).  On the albums though, the keys are primarily me.  Augmenting that illustrious group we had help on the recording of MC from John Kennard; Darbuka, bVox, Drum program consultancy, Marek Arnold: Saxes, Clarinet (Courtesy of TOXIC SMILE, SEVEN STEPS TO THE DOOR), Ian 'Walter' Fairbairn: Fiddle, Kathy Hampson: Cello, Mark Woodward: Additional Violin Leon Camfield : Assorted percussive devices! (Courtesy of TINYFISH) Phideaux: He acts as the MC at the SAVOY! (Courtesy of himself)
John: I love the introduction by Phideaux on A Night at the Savoy, 1933 which sets the whole tone for the song that is perfectly sung by Julie, being for me one of the outstanding moments on the album.  How did Marek Arnold's involvement with the album happen?
Guy: Good old word of mouth. I put out a FB note saying we needed someone and my old 'boss' Shawn Gordon emailed me to say that he had used a player on a ProgRock records artists session and he was good. He put together an intro letter for Marek & I and the rest was easy. I asked him if he had time. He said yes!  I asked for an exploratory part (the Clarinet on 'Savoy' actually) and when it turned up as a fully produced clarinet mp3 track ready to be inserted straight into the track my end I just said WOW!!!!!  "Gotta get me more of that.." and fired all the other tracks at Marek bless him!  he worked through and most of what he sent has been used…even if I moved it into parts of songs he never originally intended to go in.
John: The Southern Waves a song that concerns itself with the recent tidal changes in the southern hemisphere, a song you previewed earlier this year in Maltby as a mark of respect to the Japanese people; my first impression of the song being that it was a moving piece. Now that I have had time to sit and listen to it in more depth, the striking feature of the haunting melody is the accompanying lyrical presentation.  How did you come up with the idea for this song?
Guy: Well as I said earlier, ecological issues have been represented on many Manning albums going right back to "Tall Stories…" (The Last Psalm); The Cure (Domicile"); Ragged Curtains; etc   As I watched the Oceans roll onto the coast lines of the Southern Hemisphere (Australia, South Africa, South America, Japan) I knew I wanted to say something about this and explore what it meant to the shape of our World.  The World has been in a state of change as far back as creation with Pangea splitting apart into the continental structures we recognise today. But that journey has not stopped yet, we are still changing and  the consequences of that coupled with Global Warming and rising Sea levels is only too obvious to observe. Southern Waves sadly expresses the outcome of change, the cost of this on human communities who can only stand and watch their life's work disappear.
John: As ever not only is the music important but also the album artwork. I see that Ed Unitsky has supplied the cover art. How did this come about?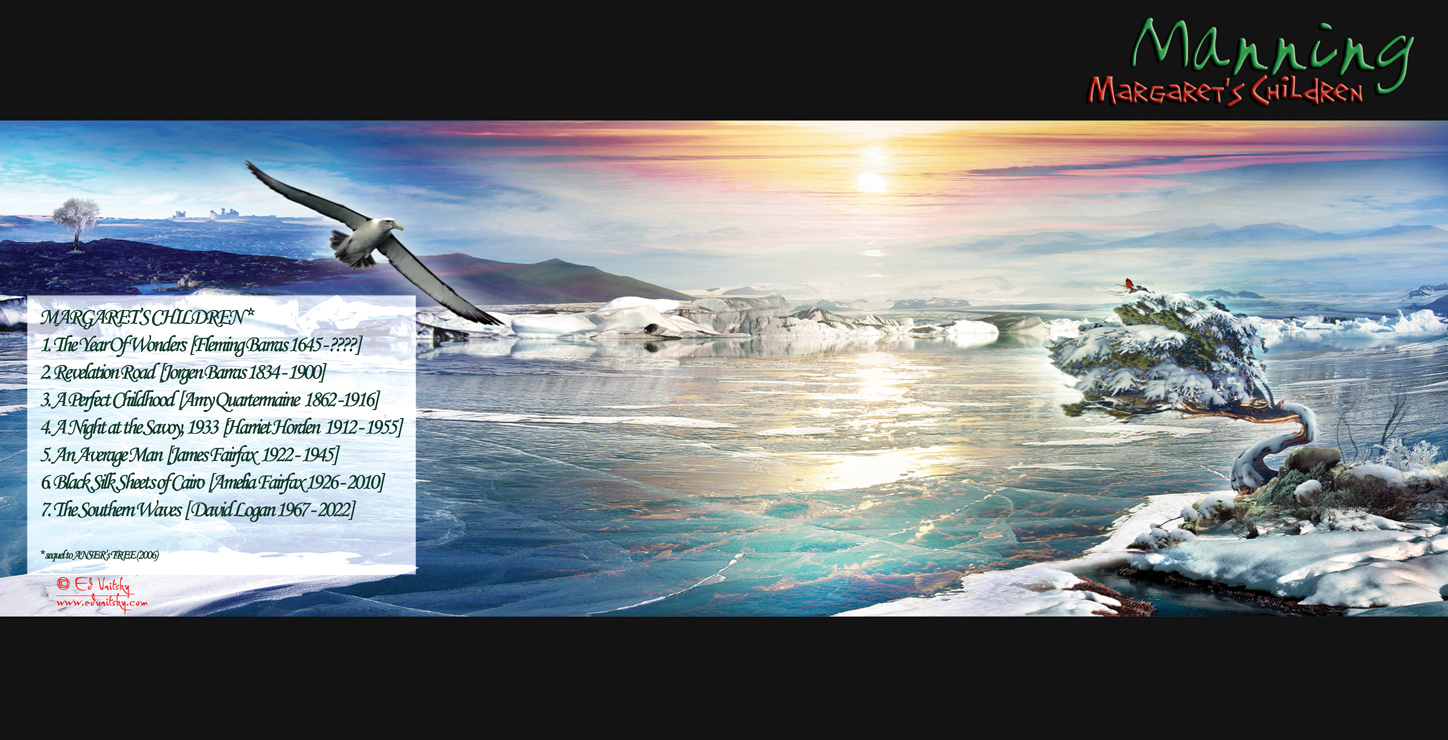 Guy: Well as soon as I knew that MC was coming it was inevitable that I approach Ed to reconstruct another striking cover artwork for the album and that I wanted it to be based very closely on the original AT cover.
John: I am intrigued as to why Margaret's Children covers landscape is seasonally different to that of Anser's Tree?
Guy: Because although the 2 album are related intrinsically, things change just like the Seasons! I wanted to show that we had moved on from AT and yet stayed the same…a curious idea!
John: The flavour of the day for some bands today is to play one of their albums in full. With this concept, would you consider doing something similar?
Guy: Since when have I ever been 'flavour of the day'! ?Some songs I feel are best served through studio production only and do not translate well to a live performance without serious compromise or an orchestra/choir!  We will bring some of these stories to the stage though.  We played quite a large chunk of Charlestown when we promoted that album…but not the full 35mins as we felt this was too much to expect an audience to endure!
John: Are we going to see a live album or DVD in the near future?
Guy: This is the resident joke here. Every year I say, its time for a live album…well overdue etc. etc…but in actual fact I find it is far easier for me to write a studio one! The logistics of setting up a venue for recording/filming is quite hard and then the post production of dvd/audio is nightmarish. Andy (The Tangent) has pulled this remarkable feat off twice and its great to watch, but I don't have the patience I think!  plus we also have to play it right on the night!!
John: Are there any live shows planned?
Guy: Yes 2012 is going to be more active for us with some promises of festival appearances being discussed currently. For 2011 we have one more full band gig (Dec 10th Corporation Sheffield) and before that a more acoustic slot at DanFest in November
Interview for DPRP by John (Jonno) O'Boyle
LINKS
DPRP Review of Margaret's Children
UP AND COMING TOUR DATES

November 26th DanFest@The Musician Leicester – UK
December 10th The Coporation Sheffield – UK